We chugged our way from the bottom of the valley all the way up to the rolling pastures. A winding lane led us to a carpark high above the sea where we hoped to camp for the night without any trouble. The view was incredible so after taking some photos we set off on our second hike of the day. It was lovely to be by the sea after spending a few days in the countryside. We still hiked across lush green fields dotted with freshly born lambs but we also had the blue sea as a beautiful backdrop.
The hike was a little dull to begin with as we had to go through bush lined lanes but eventually we arrived at the Valley Of Rocks. It was a stunning area dotted with interesting rocky mounds. We wasted no time clambering up them and getting some precarious looking photos. We'd been hiking for nearly two hours to get to this area so we decided to stop for some coffee and snacks. As usual Craig found a dramatic location, atop a rocky ledge with a view across the valley.
We followed a trail around the back of the rocks which took us high above the sea with fabulous views of the coastline. We even spotted a wild goat on a rock below us. She'd recently given birth but she appeared to be using her baby as a pillow! We took a different route back, through a pretty area of woodland with a trickling stream and then we crossed a series of farmers fields. A cow was ahead of us in one field and suddenly we spotted a bloody mass in front of us – we think it was her placenta and she'd given birth very recently. Her baby was laying on the floor so we gave them a wide birth (excuse the pun!!) and the baby attempted to stand up. It was adorable to watch her clumsily trying to move her legs for the first time.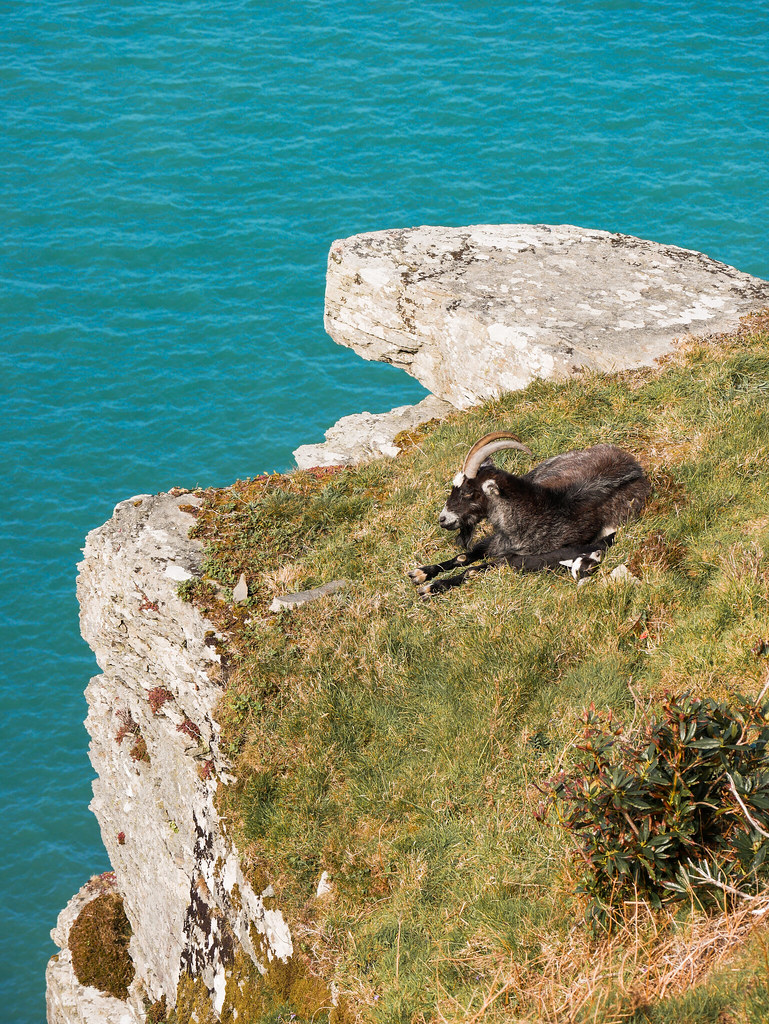 We also spotted a fox laying on the grass and staring right at us with huge, cartoon-like eyes. It was so lovely to see a fox in the wild as appose to the urban ones rummaging through bins. Rabbits were hoping about in the same field, totally oblivious that they may become his dinner.
The following day we were treated to more sunshine so we decided to stick around the area but hike in the opposite direction. We had no idea what the route would entail so we were delighted to find ourselves on a trail carved into the edge of a steep hill, high above the sea. We had an amazing view of the coastline, with the layered headlands fading into the distance.
Eventually our trail headed down into the Heddon Valley which was filled with forest and lush shrubbery thanks to the river that flowed through it. The river headed straight for a rocky, windswept beach with high cliffs around it. We stopped for some coffee and to re-evaluate where we were heading next. Our original plan was to go back the same way but it was such a nice day that we decided to extend the walk and head all the way up the other side of the steep valley.
The trail wound around the cliff-edge and we soon had a view across the other side of the coastline. Exmoor has a very wild coast, with rocky cliffs that make most of it only accessible by boat. We stopped for lunch in a stunning spot and then made our way inland where the scenery changed from scrubs and moorland to pastures separated with dry stone walls and filled with sheep.
We looped our way back down to the Heddon River where we braved our first wild swim of the season – Aka a very quick dunk which led to brain freeze. After we'd dried off by crouching on the floor and trembling we felt amazing and laughed that it wasn't so bad after all. We ended up hiking for a good 5 hours but it was a really fun hike and full of unexpected views.
The following day we woke early and walked down to Woody Bay which looked like a quick morning stroll on my map. It turned out to be over an hour walk with a steep ascent to the rocky beach which had a natural rock pool to swim in and a waterfall dropping down the cliffs. We also spotted a huge house that looked like it was literally clinging to the cliffs. It was the only house in the whole area and it looked so close to the edge that you'd probably get vertigo just from looking out the kitchen window.
In the afternoon we had exciting plans to meet Sian, an old friend of mine that I met 10 years ago while working in New Zealand. We got to meet Sian's housemates too who came along for the hike in an area we were yet to explore. To reach the valley however we had to drive our toughest road yet – a 20% gradient that climbed from sea level up to what felt like the top of the Himalayas!
The hike was really beautiful but we were so busy chatting that I had to remind myself to look around at the scenery. The first section followed a river which opened out into an idyllic swimming hole. We stopped at the pool for lunch and a couple of brave souls went for a dunk. We enjoyed a tasty picnic made by Sian's girlfriend and then continued the hike, climbing up over moorland and through a forest with twisted trees and bright green moss.
It was so nice to catch up with an old friend and it felt like we hadn't spent any time apart. But as the sun was going down we bid them farewell as they headed back to the village they live in by the sea and we stayed put to camp for the night.
The following morning we did a hike from the carpark that led us through farmers fields with views of the sea way below us. We were the only people on the trail and that's something we've noticed about the hikes in Exmoor, it doesn't feel like a national park because there are so many quiet areas that you can get all to yourself. We passed through a field of sheep where a lamb had just been born and the remnants of the birth were still dangling from the mums rear. Further along however was a mum who'd had twins but one hadn't survived. She was nudging it but the tiny thing had blood all over it's face. We gave her space, not wanting to interfere with nature but as we left the field we thought – what if she's just given birth and the baby needed help, I don't know much about farming but I'm sure I've seen a clip of a farmer swinging a lamb around it's head to bring it back to life. So we went back and all it took was a hand to the body of the lamb to feel it was already cold and too late.
After five wonderful days spent exploring the national park it was time for us to head off. The route is steep in either direction but at least this time we were rolling down the toughest hill. I looked back to see the cliffs glowing orange in the morning light with beautiful beaches beneath them.