Most people hire horses for a three day trip to Song Kol lake but we didn't really want to go through the pain of sitting on a horse for that long, nor did we want to spend that much money. So instead we opted to hike for three days and stay in yurts along the route. We started the trip from Kochker and had to make our way to Kyzart village where the trail on our Maps.Me app started. The shared taxis were asking for 300som (£3) per person which wasn't bad but we'd have to wait to get 4 other passengers for that price and the area was extremely quiet at 8am. So instead we tried to hitch which you usually have to pay for in Kyrgyzstan but it can be cheaper than a taxi as it's on the drivers route. Sadly we were met by a lot of 1000som (£10) price quotes and after thirty minutes we wondered if we'd get a cheap ride at all. Then a very swanky Lincoln 4×4 pulled up with two smiley locals. We asked to go to Kyzart and said "Skull ka?" which is "how much?" in Russian. The gentlemen just waved their hands about and said things we didn't understand but we got the impression that they were saying "it's free, hop in" so we did exactly that. Talk about travelling in luxury, it was the first car we've been in that had seat belts that worked and we sat in such comfort on leather chairs with arm rests. The men were an absolute delight, they didn't speak a word of English but my god they were the most determined charades players we've ever met. Half way through the journey we discovered they were retired cops! They gave us grapes and nuts and loved talking about the World Cup. It was a sad farewell when they dropped us in the tiny village of Kyzart over an hour later and they made sure to take lots of photos with us and hug us good bye.
We followed a lonely dirt track up and down some dry hills and towards the river. There were millions of crickets and every step we took disturbed them so our legs were constantly being tapped as they catapulted across the path. We were surprised to be the only people around, there were no other hikers on what we thought would be a popular route. The sun was intense so we stopped a lot and managed to have lunch under a tree beside the raging river. We cooled down even more as an unexpected black cloud rolled through our valley and we had a freak downpour.
Our aim was to stay in Kilemche for the night which had a few yurt camps but we couldn't locate the village on our map so it was all guess work really. We spotted some yurts in the distance but it seemed too early to come across them according to our directions. When we saw the first other human, an old chap riding his horse, we pointed straight ahead and said Kilemche and he nodded. Soon after though we reached a cross junction and right was to the pass where we were heading the next day, but straight on was supposedly Kilemche. So we were in a bit of a pickle, we didn't want to have to backtrack the following day to get back to this point so we had to double check where Kilemche was. In the distance was a very remote little farmhouse and we spotted our horseman on the grounds so we headed straight for him. As soon as we were within 100m of him he galloped off into the hills to corral his cows. God damn. So we stood there scratching our heads and feeling sorry for ourselves while two big dogs constantly barked at us. It was so hot that we didn't want to risk walking the wrong way and backtracking so we sort of dawdled on the dirt road looking up and down it and wondering where the heck the yurt camps were. Thankfully a car came by and we asked the chap who confirmed that it was straight on for Kilemche. We pointed to our watch to ask how long and he gestured 1.5 hours!!
We had no choice but to continue on and we looked at the map and realised it was a trail we had looked at while researching the area. It started from Kyzart Pass but was 18km and we thought by starting in the village and going up the right fork to the pass it would be shorter. Sadly Kilemche wasn't on that route so we ended up hiking about 25 bloody kilometres. Thankfully most of the route was flat or very steadily uphill and eventually we got a view down to a valley filled with livestock and a few yurts. We were surprised about the scenery we were seeing, there were no mountains, just layered green and beige hills everywhere. It was very pretty but certainly not wow.
We were exhausted and said we'd take the first yurt we found. It happened to be a place with three yurts and an old lady gave us a very unenthusiastic wave in. So we headed up and a grumpy looking man gave Craig a weak hand shake and no hello whatsoever. The daughter came out and looked a bit like a witch with hair like a birds nest and pointy shoes. She showed us the dining yurt which had a table with some objects on it hidden by a white sheet. It sort of looked like a house that had been abandoned and covered in white sheets to prevent dust. The sleeping yurt was also pretty rough on the edges but I didn't know if we had much choice. I figured Craig would be happy with anything and we couldn't really be bothered to walk anymore. But when we asked each other if we wanted to stay we pondered a lot and finally thanked the lady but said we'd have a look around. We didn't know how many yurt camps there were but we just didn't get a good vibe from that family. So we said farewell and headed up the valley right into a rainstorm. Typical. It absolutely pissed it down and I was battling against the wind with my poncho which had a mind of its own. The rain was coming straight onto our backs and filling our hiking boots with water. We looked liked drowned rats when we arrived at the next yurt camp and lost all bartering power as they knew we were desperate. They were charging more than the hillbillies down the valley but the place seemed nice. So nice in fact that 20 tourists on horseback had just arrived at the camp. We were offered to share a yurt with three other tourists which we didn't like the sound of so we asked if they had any private yurts, nope, but they pointed us up the valley and said lots of yurts up there, just 5 minutes. The rain had stopped at least but we were very soggy and the 5 minutes was in fact 30. We spotted a camp at the back end of a valley encircled by green hills. There were three yurts and the hardiest Volkswagen polo we've ever seen. We didn't even know if they'd have space but we had to try.
We were relieved to be greeted by a super smiley and welcoming family and led to a private yurt for £10 per person including dinner and breakfast. The family owned lots of horses who roamed along the nearby hills, cows, hens, a giant blonde guard dog and a tiny kitten. Every single animal was completely free range which is something we've seen a lot of in Kyrgyzstan and we just love. Wild marmots lived in tunnels along the hillside and really tried to wind the dog up by squealing and then dashing into their holes.
We watched our hosts milking the horses and cows who all stood very patiently. There was a minuscule calf who was really excitable and decided to chase the large, blonde guard dog. It was hilarious as the dog is trained to keep intruders, wolfs etc out but it was scared shitless of this baby cow which was smaller than himself. The calf playfully charged for the dog who ran as fast as it could but the calf didn't give up and continued chasing him between the yurts, taking such quick turns around obstacles like milk containers that it's legs slipped sideways. The dog looked absolutely traumatised by the situation.
The sun began to come out so we dried our clothes and noticed 6 horses were riding up towards our camp, I guess we were crazy to think we'd be the only people staying here. Four Swiss tourists in cowboy hats gave us a wave and the dog went crazy, barking like mad at all of the horses and nipping the back of their legs. It was amazing to see how quickly the dog changed from being scared of a tiny calf to aggressive against a massive horse.
We had a lovely stay at the yurt camp and were fed very well, I think the tourists arriving on a pre- arranged trip meant they got a good selection of grub and we just joined in on it. We set off nice and early the next day and tried to navigate around the hills to avoid going downhill. We eventually joined into the main path which was clearly the one that all the tourists on horseback used as about 40 horses passed us on our way up. It was a fairly easy pass to climb and we were hoping for dramatic views from the top but we were left a little deflated. There were still no big mountains, just hills and valleys. Song Kul was visible and the hills around its southern shore were slightly coated in snow but it wasn't exactly an exciting moment, except for knowing it was all downhill from now on. We quickly made our way down the valley, crossing streams and passing a couple of traditional yurt camps with kids riding donkeys. These camps were full of livestock, most of which were roaming free but one camp had all of their sheep and goats in a fenced off area. I think it's to get a big accumulation of shit mixed with the mud which they dry out and use instead of firewood. We were expecting to come across the Jamancheki valley where there were some yurt stays but we couldn't see any. When we asked a local on horseback for the valley he said we were in it…so where the heck were the yurts? We had two options A) walk 2-3 hours along the flat shores to Batai-Aral which we knew would have dozens of places to stay, or B) use a bit of our limited energy to walk up a hill in the opposite direction and see if any yurts were visible. We ended up doing the latter and luckily in the distance we spotted a camp! It was about 2km away though so it took a little while to reach and we were worried they wouldn't have space as a group of tourist horses were tied up outside. Luckily they managed to move some people around and we had a sweet little yurt all to ourselves. There was livestock roaming around the camp plus an overly friendly Rottweiler guard dog who wouldn't leave our side once we stroked him. We sat on a swing between the horses to eat our late lunch but it wasn't the most pleasant spot as the horses kept doing the stinkiest farts. Then one of them got an erection which seemed to set every horse off around us so we were in absolute hysterics as we were surrounded by foot long cocks and testosterone while trying to have a nice picnic.  The camp was based at 3016m altitude and right by the shores of Song Kul. A short stroll led us to a curved beach which cows casually roamed along, just like they did in India. We ran into the clear water and enjoyed floating in the shallows until a group of guides and tourists came down and decided that the spot we were at was perfect so our tranquil beach didn't last long. The lads were all playing in the water and riding the horses into the lakes.
When we got back to the camp a goat had been slaughtered for dinner and an old lady was washing all of the offal, pouring water through the intestines and wrapping them around her arm while the Rottweiler watched very intently. After seeing the goat Craig was expecting a meat feast for dinner but everyone got a few tiny scraps of goat amongst some very bland noodles.
The sun dipped behind the mountains and cotton candy clouds popped into the sky before the temperature drastically dropped. I set my alarm for 2am to check out the Milky Way which was shining bright above us.
For our third day we were planning on walking along the lake to Batai-Aral but we kind of felt there wasn't much more to see in the area. It was a little same same and we wanted mountains, not green hills. So we decided to walk with our thumbs out and see if anyone passed. A monster suv pulled up and we were surprised to hear "you guys wanna ride?" in a strong American accent. It was actually a Brazilian man who had worked in the states. He was heading our way so we enjoyed a comfy ride in his fancy rental car for free. We had to try and arrange a ride from Batai-Aral back to Kochker and it was only 10am so we had plenty of time. The first guy we asked quoted 1000 som (£10) each and we were hoping to get a cheaper price so we played hard to get and walked to the lake to take some pictures. The water was totally flat and all of the snow capped hills were beautifully reflected. A lone cow was standing in the shallows just staring out at the distance while a group of horses charged in for a morning dip. When we went back to the car to give up and take the price he offered the man had vanished. So we sat on a rock wondering when our next opportunity for a ride would arise. Local cowboys galloped past us on their horses and they all said hello, one man waved at us and instead of saying hello his horse let out a symphony of farts and we were like kids giggling like mad that the horse had communicated with us.
Batai-Aral was a bit of an ugly place and we were glad we didn't stay there, it was packed with yurts, almost like a refugee camp but set up for tourists. We noticed most camps had cars so we decided to ask if anyone was heading to Kochker. One car passed us and offered a ride for 1500som each and laughed when we said 1000. Luckily when we went into a yurt camp they offered us a ride for 750som each (£7.50) wahoo. The driver that had just offered us the expensive ride came into the camp and the men seemed to have a bit of an argument about him agreeing to take us for a fair price. It seemed a little mafia like with taxis around the area so we were happy to be in a car with an honest family. The son was driving, he was probably only 16, with dad in the front and grandma in the back with us. We set off and stopped at numerous different yurt camps along the way, sometimes to say hello to neighbours, sometimes to give old ladies a ride a few camps along and sometimes to collect food or packages. We passed a guy on horseback and the grandma was beaming from ear to ear, "my son" she said. Then we went to another yurt camp and grandma said, "my brother". She got out here and excited kids filled our car and just stared at us with huge smiles and lolly's squeezed into their cheeks. We picked up some gas and petrol tanks and finally set off.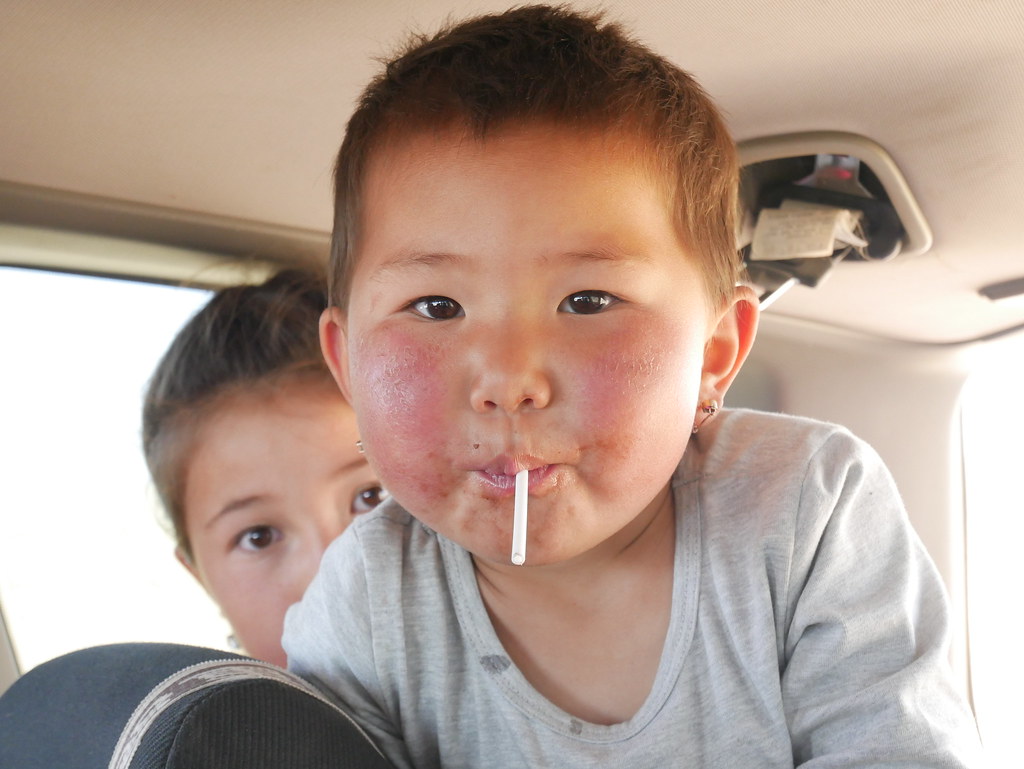 We were shocked at the route out of Song Kul as the scenery was pretty incredible and a complete contrast to the lake area. Big rocky mountains rose around us and we took an exciting road down the mountain with a sheer drop to our right. We passed a group of yaks and gushing streams along the way and finally we reached the main road at the bottom of the valley. The car began acting very strange and was jolting constantly, so it was an extremely slow journey back to Kochker as we plodded along at 20mph. It was a lovely trip and we really enjoyed staying in the yurts but it wasn't the most impressive scenery Kyrgyzstan has to offer.