As we drove down a steep, winding road towards the little village of Chulilla we were surprised to see so many campervans and motorhomes parked up. We soon realised why when we saw sheer rock walls surrounding the town – it was a climbing mecca. Most of these vans belonged to climbers who spend their days scaling the orange-tinged rock faces. It was a beautiful area actually, even on this grey, drizzly day. Chulilla town seemed to cling to the edge of a cliff with a steep gorge on either side. Seeing as it wasn't raining much we headed out for a hike to the bottom of the gorge. The route led us to Charco Azul, a swimming hole encircled with cliffs. It was a beautiful spot and a wooden jetty led out into the centre of the pool but we weren't tempted by the idea of a swim. The water was a lovely turquoise colour but it was totally opaque and I need to see what's in the water. Instead we headed back a slightly different route, through the narrow, cat ridden alleys of the village.
Not far from Chulilla was a powerful waterfall which we drove past and decided to stop and hike to. The area was a flood risk with plenty of warning signs and debris across the road. To get to the falls we had to take our shoes off and wade through knee-deep, frigidly cold water but we were soon standing in the mist of it (literally). Our next stop was in the village of Chelva where we walked alongside a river to a swimming hole. It's been raining so much lately that the river had turned into a brown, muddy mess. We realised it's the first river we've seen in Spain that hasn't been a fabulous blue or green colour.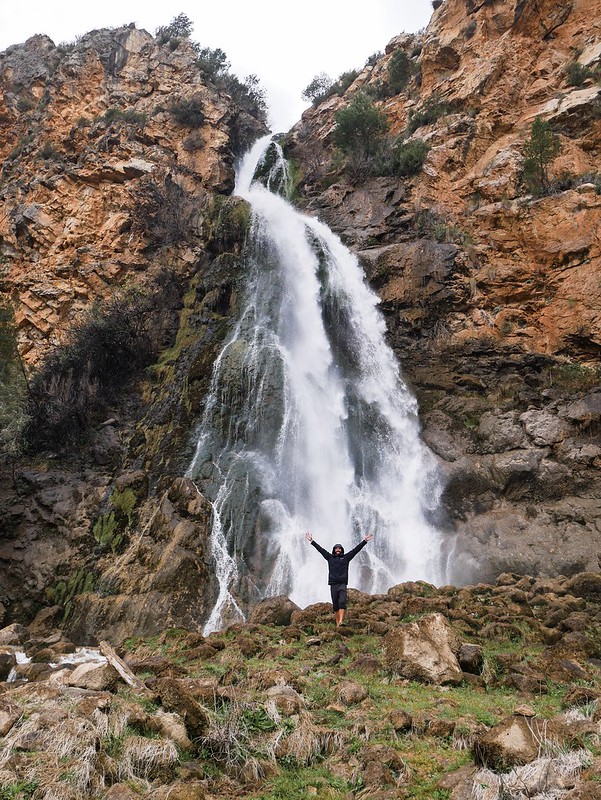 The sights in this area were nice but not wow so we decided to continue our journey north to the village of Montanejos. We stopped for lunch at Navajos and did a short hike to Salto de la Novia waterfall which dropped 60m down the cliff edge and was quite beautiful actually. There's some legend behind that waterfall, apparently a young couple were trying to prove their love before taking their vows and said if the women jumped across the top of the falls and fell then their marriage was destined to fail. Well, she fell, but then the guy jumped to save her and they both died…so, I think we can all agree that was a pretty stupid idea.
Another little stop off was to a random lake I discovered on google earth. It was about a 6km hike to reach and it was like a crater lake with green water and steep red cliffs around it.
We arrived at Montanejos in the afternoon and headed straight for the 'warm river' which is fed by a thermal spring but at 24° it's not exactly hot but nor is it cold. We parked in a paid car park which was empty and free in the off season and followed a trail down to the pools. It was a really scenic spot with crystal clear water in a sort of gorge with steep, rocky walls. It was actually colder than we'd expected, I mean it was comfortable to swim in but we were both shivering afterwards. The gravel on the floor felt weirdly warm and we had fun diving into the slightly deeper areas which were an incredible blue colour.
We keep saying we're going to have a rainy day just relaxing and doing research but then the rain never seems to be much so we make the most of the dry weather and end up having busier days than normal. So as we parked up for the day at around 5pm we decided to go for a short stroll up the road to see a gorge. The water looked insane below us, the most perfect glacial blue colour without any help from a glacier. There were quite a few tunnels along the road and some had big windows blown out where we could get a view of the river way below us. The short road stroll turned into a meander along the banks of the river. I really enjoyed this walk and couldn't get over how amazing the water colour was. We passed a small waterfall with a milky blue pool below it and terracotta orange walls rising above and it really reminded me of a sight in Arizona that I've always wanted to visit. So another relaxing day turned into a full day of activities.
The rain still wasn't falling much the following day so we drove up the road to see the reservoir but it wasn't anything special in the cloudy weather. Luckily it was worth the drive as we got to stand beside the jet of water spraying out the dam banks. It was crazy!!! I don't even know if we were allowed to be there as it seemed a little dangerous but there was a trail and no signs saying we couldn't be there. We had a lot of fun taking optical illusion photos of the water spraying out of Craig's mouth.