We woke up beside a huge red rock wall glowing in the morning sun – another day in paradise! We were exploring the area around Page, Arizona so we made a pit stop at Horseshoe Bend. It's a very impressive bend in the Colorado river with big canyon walls wrapping around it. We visited the spot on our 2010 trip and boy had it changed. There used to be a small gravel area to park and a rustic track which we had to ourselves but now it was totally overrun with tourists. There was a big car park full of cars and Page town was cheekily charging a whopping $10 per car! A wide organised trail led up to the top where a metal guardrail had been built for safe viewing. Luckily except for that one viewing area the rest of the top was still wildly open to the sheer drops and adrenaline inducing views. There were big crowds of Asians who all piled off a tour bus and were loud and poking their selfie sticks around, but thankfully the view itself hadn't changed and boy was it jaw dropping.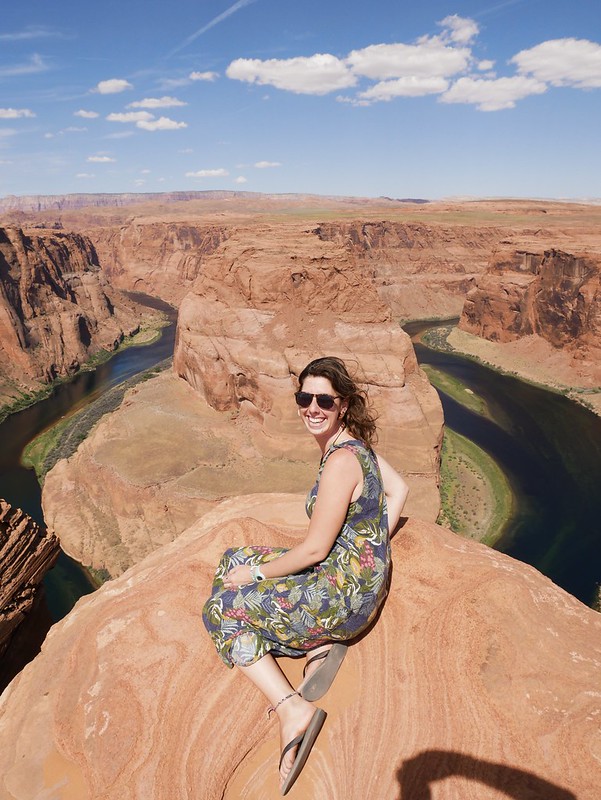 Afterwards we drove to Lake Powell just across the border in Utah. The entrance was high up and we could see lots of big RV's and campervans parked up on the sandy shores below us. We figured if they got down there we could too so we took Ruby along a track and we didn't like it one bit. At a fork in the dusty track Craig got out to check the terrain and it was lucky he did as the sand became pretty deep and we had to reverse the whole way back out of fear of getting stuck. So we just parked in the tarmac carpark at the top and wandered down on foot to a big empty beach. It was a stunning lake with bright blue water, unusual white and orange rocky walls along the shores and a huge rock protruding out of the water in front of us. We took our camp chairs down and a couple of beers, ready for an afternoon at the beach. It didn't quite work out as planned though as a gusty wind began blowing across the lake. We managed to have a very icy dunk in the lake and dried off almost instantly as the wind acted as a gigantic hairdryer. It sounds quite nice when I write it down but in reality the sand was whipping up and hitting our bodies so it was more pain than pleasure. Tumble weeds were even rolling past the sandy shore until they hit the water and all piled up beside one another. It was basically a mild sand storm but when a couple of kayakers paddled past us, battling the winds in the choppy lake we felt like our day wasn't so bad after all.
Seeing as it wasn't the beach day we'd anticipated we set off and searched for a free place to camp. The road went on and on until we realised we were near the Toadstools hike so we did an early evening stroll to see them. It was only a mile or two until we reached the bizarre rock formations created by erosion. Tall spires had big rocky hats atop them and they kind of resembled toadstools…if it was dark and you squinted. They were very cool though and one in particular was a stunning burnt red colour with a white rocky slope below it. We followed a lonely trail past the most popular rocks and reached an area with white toadstools and amazing hills where they changed from white to red instantly as if they were painted by hand. It was a really fun place to explore, especially with the low sun intensifying all the colours.